As technology moves, so too does the Open University
Global education system for formal and non-formal students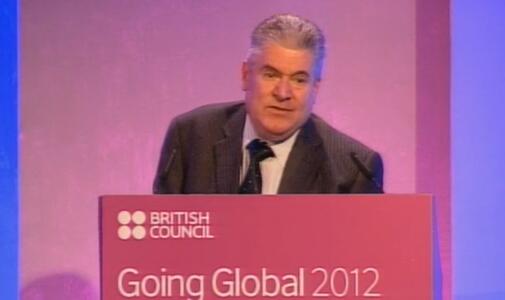 Martin G Bean, Vice-Chancellor of the Open University addresses Going Global 2012

We have a fundamental belief that our engagement with people begins well before we enrol them in our system and start educating them in more formal environments

The Open University is no longer made up of 'late-night BBC2 hairy professors with kipper ties,' Martin G Bean told the Going Global 2012 audience.
In a talk entitled: Bridging the divide: visions of education futures through technology, the university's Vice-Chancellor explained that the OU was founded on the principle that it would be open to people, places, methods and ideas.
With 265,000 formally enrolled students at present, he said the internet had been a 'dream come true' for the organisation.
The OU began, he said, by using radio and television to broadcast its lectures into people's homes.
But the internet allowed it to open up channels in a way it never imagined.
"Every time technology has moved on, the OU has moved with it," he said.
Rather than being restricted to late-night television, the university is now working in partnership with BBC1 to produce hugely popular shows such as Frozen Planet.
He explained: "We have a fundamental belief that our engagement with people begins well before we enrol them in our system and start educating them in more formal environments."
The university now has more than 10,000 hours of free open education resource material at undergraduate and postgraduate level and such technology is allowing the OU to attack some of the world's greatest challenges, he said.
"Our teacher education in sub-Saharan Africa programme has trained over 400,000 primary school teachers to transform learning outcomes and our new healthcare extension worker programme in Ethiopia is designed to leverage knowhow and open education," he said.