Education for the Internet generation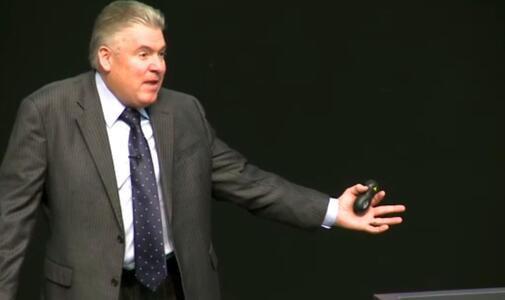 Martin G Bean addresses the HEA Annual Conference

Our job is to teach students the skills to access the plethora of information that's out there and make sense of it

Integrating technology into education is not a choice, The Open University's Martin G Bean told this week's HEA Annual Conference 2012: Great expectations – are you ready? conference.
The Vice-Chancellor referred to the Horizon Report 2012, and said he believes the Higher Education sector is facing a new kind of digital divide, no longer just about 'getting people on to the Internet.'
"My contention today is that technology and education has nothing to do with hardware and software and everything to do with 'brainware'," he said.
"Every moment we spend focused on the software and hardware, rather than the people and the processes that actually have to go into making any sense of technology in an educational environment, is an absolute waste of time."
The day 'Google' became a verb and Wikipedia a trusted source of knowledge, the world changed forever, he added.
"Our job has got to be, as it has always been, to teach our students the skills to access the plethora of information that's out there and make sense of it."
"I like to think of the technology as just being an enabler. It's another way for us to bring to life the magic of high quality teaching."
He also pointed to the Student Perspectives on Technology – demand, perceptions and training needs report to HEFCE, by the NUS in 2010.
The results showed that students wanted technology to be integrated and used as part of their overall education experience.
Most of today's students haven't known a world without the Internet, mobile devices, video on demand, Mr Bean reminded viewers of the broadcast.