Making learning relevant for vocational students
Millions of adults in the UK are functionally illiterate and innumerate, Jill Lanning told the Functional Skills conference.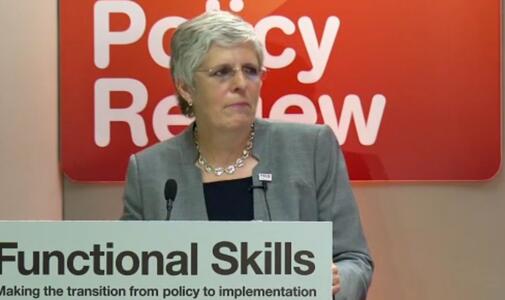 Jill Lanning, Chief Executive, Federation of Awarding Bodies
While accepting there are some variations in the figures depending on which report was read, Ms Lanning said the situation was not acceptable, for either social or economic reasons.

Embedded learning is crucial, but don't go so far they can't decontextualise

Discussing post-16-year olds, the Chief Executive, Federation of Awarding Bodies, said: "We know that learners are motivated if the assessment of skills is in a context. It gives them relevance and confidence."
However, context-free assessment i important, she said, so that learners are not restricted in where they can use their skills.
"Embedding learning in the vocational context is crucial," she said, "but you need to make sure you don't go so far they then can't unpick it when it comes to the assessment.
"We're going to have to get better at identifying the point at which you decontextualise," she added.
Ms Lanning also said that the new external assessment requirements mean colleges will need to think about exam technique.
"Perhaps for the first time, you're having to teach vocational learners about exam technique, and there is some evidence – anecdotal at this stage – that for some learners, exam technique is letting them down," she said.
"They don't read all the questions, or they don't leave enough time... all the classic mistakes."