Reducing delays to adoption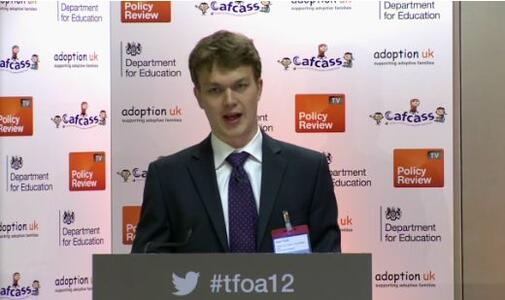 Oliver Clarke

It seems sensible to cut down the time in which a child is in temporary foster care so they can move in with permanent carers earlier

Significant numbers of children who go on to be adopted first become looked-after when they're less than one month old, delegates at The Future of Adoption heard.
Making a keynote presentation at the conference, which was concerned with meeting the increased demand on the system, Oliver Clarke, Adoption and Children-in-Care Strategy Team, Department for Education, emphasised that the priority was on reducing the delay in children being adopted.
"Any changes you could make to speed up the time children are placed with their permanent carer are really important because [the first few months of life] are such a critical time in child development," he said.
The average time between a child entering care and moving in with their adoptive family is one year and nine months. A child's chances of adoption are reduced by almost 20 per cent for each year they spend in care.
"It seems sensible to cut down the time in which a child is in what will prove to be temporary foster care, so that they can move in with their permanent carers that much earlier," Mr Clarke said.
Key reforms being proposed to deal with the delay include finding children suitable homes through improving efficiency; a new six month approval process and an assessment contract, and a fast-track approval for foster carers and second-time adopters. It is hoped these will bring about more approved prospective adopters, especially those who are willing and able to adopt children with complex needs and those from black backgrounds.
On average, black children spend a year longer in care waiting to be adopted than Asian or Caucasian children.
"We want to make clear that it is not legal for the search for a perfect ethnic match to hold up an adoptive match indefinitely," Mr Clarke added.