Expanding universities into international markets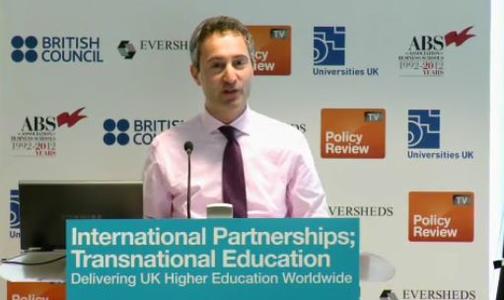 Vincenzo Raimo urged audience members to see the potential in working internationally

It can, and should be, about much more than just international student recruitment

Transnational Education can and should be about much more than just international student recruitment, the Director of the International Office at University of Nottingham told delegates this week.
Speaking at the International Partnerships; Transnational Education – Delivering UK Higher Education Worldwide conference, Vincenzo Raimo discussed expansion into developing international markets.
He reminded the audience that there are now more students studying for a UK qualification abroad than in the UK.
But, he warned: "The focus of much of the UK's recent activity has been commercial: international student recruitment and tuition fee income. But unless you're developing a short-term strategy – pile it high and sell it cheap, that's not a sustainable strategy, as we've seen from the numerous examples of retrenchment from the Australian universities.
Mr Raimo urged delegates to see that 'TNE can and should be about much more than just international student recruitment.'
"It can be about providing opportunities for your home students, engaging in mutually beneficial relationships with partners overseas for research and developing more interesting programmes together," he added.
Mr Raimo spoke about twinning programmes, saying that University of Nottingham has typically viewed them as an 'international recruitment pipeline'.
"We've got a twinning programme with a university in Thailand which brings in more than 50 undergraduate engineering students a year, which is one of the reasons why we're one of the top recruiters, by quite some way, in Thailand," he said.
Mr Raimo went on to discuss different ways in which the markets in which a university is already active can be penetrated by developing additional activities, such as expanding programme portfolio.